FOCUS AREAS
Improve our Health
Urban extension extends the knowledge of our community development professionals to improve health and lifestyle. One goal is to help eliminate chronic illness that urban communities are facing such as obesity, diabetes, asthma, and high blood pressure. Another goal is to reduce urban residents' risk of exposure to contaminants in the environment.
Strengthen Communities
Urban extension shares the knowledge of the university to strengthen communities by improving the quality of life for residents of urban and suburban areas through economic development, housing, and job creation/training. Our goal is to work with communities to share the knowledge, develop local leaders, and encourage community members to work together in improving the quality of life.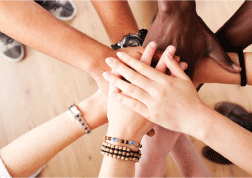 Protect the Environment

St
Urban extension shares un-biased scientific solutions for environmental issues. Our goal is to provide technical expertise to support restoration and protection of our water, air, and natural resources. This includes working with communities to identify green infrastructure opportunities to reduce the occurrence of combined sewer overflows (CSOs), increase green space in a highly urbanized community, improve air quality, reduce the urban heat island effect, and increase environmental biodiversity.
Over the course of several meetings, the NUEL have identified five focus areas that encompass a large portion of current urban Extension efforts. For each focus areas, examples of urban Extension at work have been provided below. As urban Extension continues to sweep the nation, additional success stories will be added to each focus area. Have a story? Be sure to send us your story by downloading the form here.
Looking for Success Stories in your State? Click here to find specific State Success Stories.
t

Enrich the Youth
Urban extension provides youth with opportunities to become engaged and active citizens for a brighter future. Our goal is to provide youth with skills that can be applied to a wide range of career opportunities.
Feed our Future
Urban extension educates communities to overcome challenges in developing a local food network. Our goal is to provide leadership on establishing urban farming and community gardens to provide fresh produce and promote urban agriculture production sustainability that better nourishes local neighborhoods.